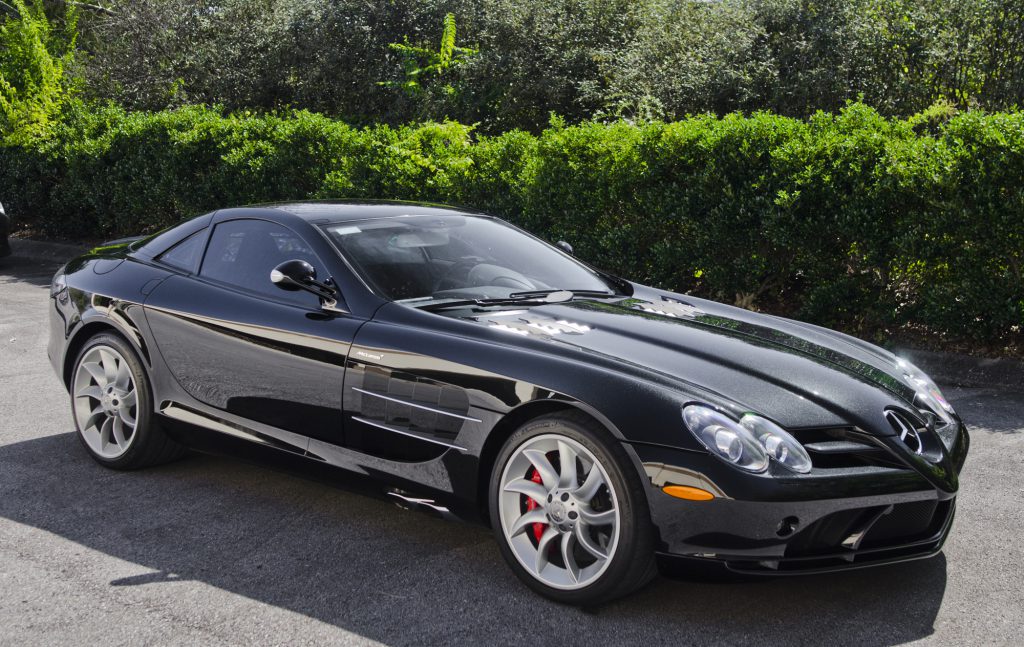 (Scroll down to Gallery)
Galaxite Black / Black
Only 8,626 Miles!
Red Calipers
Service History
Complete with Books, Two Keys,  & Car Cover
$249,500
This vehicle is privately owned and titled and ready for immediate delivery.
SLR Fun Facts:
The Mercedes SLR McLaren was introduced in the same time period as Ferrari Enzo and Porsche Carrera GT with performance statistics to match those two Supercars. This Mercedes is a showcase of cutting-edge technology, not only for its incredible engine, but also for its novel use of carbon fiber and other exotic innovations. It catapults to 60 mph from rest in 3.8 seconds and hits a top speed of more than 200 mph.
The $450,000 SLR brings together two of the most respected names in the automotive industry: Mercedes-Benz's in-house AMG performance division supplies a 617-hp supercharged V8, while British firm McLaren Automotive, creator of Mercedes-Benz's Formula One race cars, designed and hand assembles the car itself at its facility in Working, England.
One dramatic example of technology transfer from Formula 1 racing is the carbon fiber composite material of the new SLR body, which provides rigidity and strength never before achieved in road-going vehicles. Equally impressive is its high level of occupant protection. The SLR is distinguished as the first series production vehicle to utilize a front crash structure made exclusively of carbon fiber. Specially designed to absorb crash energy at a constant rate, the carbon fiber crash structure absorbs four to five times more energy in a severe frontal collision than similar structures made of conventional steel. The high-performance SLR supercar is one of very few production cars to make use of ceramic brake technology. The brake discs on the SLR are made of a new composite material – a fiber-reinforced ceramic with astounding stopping power, high heat resistance, outstanding structural strength and long service life. The discs weigh less than half that of conventional brakes, and are fitted with eight-piston calipers in front and four-piston calipers in the rear. The brake system alone can decelerate the SLR up to 1.3 g, producing the theoretical equivalent of 2,000 horsepower. In addition, an innovative airbrake in the form of an adaptive rear spoiler in the trunk lid increases downforce, improving stability and braking even further. Under hard braking above 59 mph, the air brake pops up at a 65-degree angle, helping to stop the car from 62 mph is just 114 feet.
The SLR doesn't compromise luxury and comfort like other supercars do. Truly an exotic car that is drivable on a daily basis. Production capacity is limited to 500 cars per year for the world. The first SLR rolled off the line in May 2004, and the 1,000th SLR left the building in February 2006.
---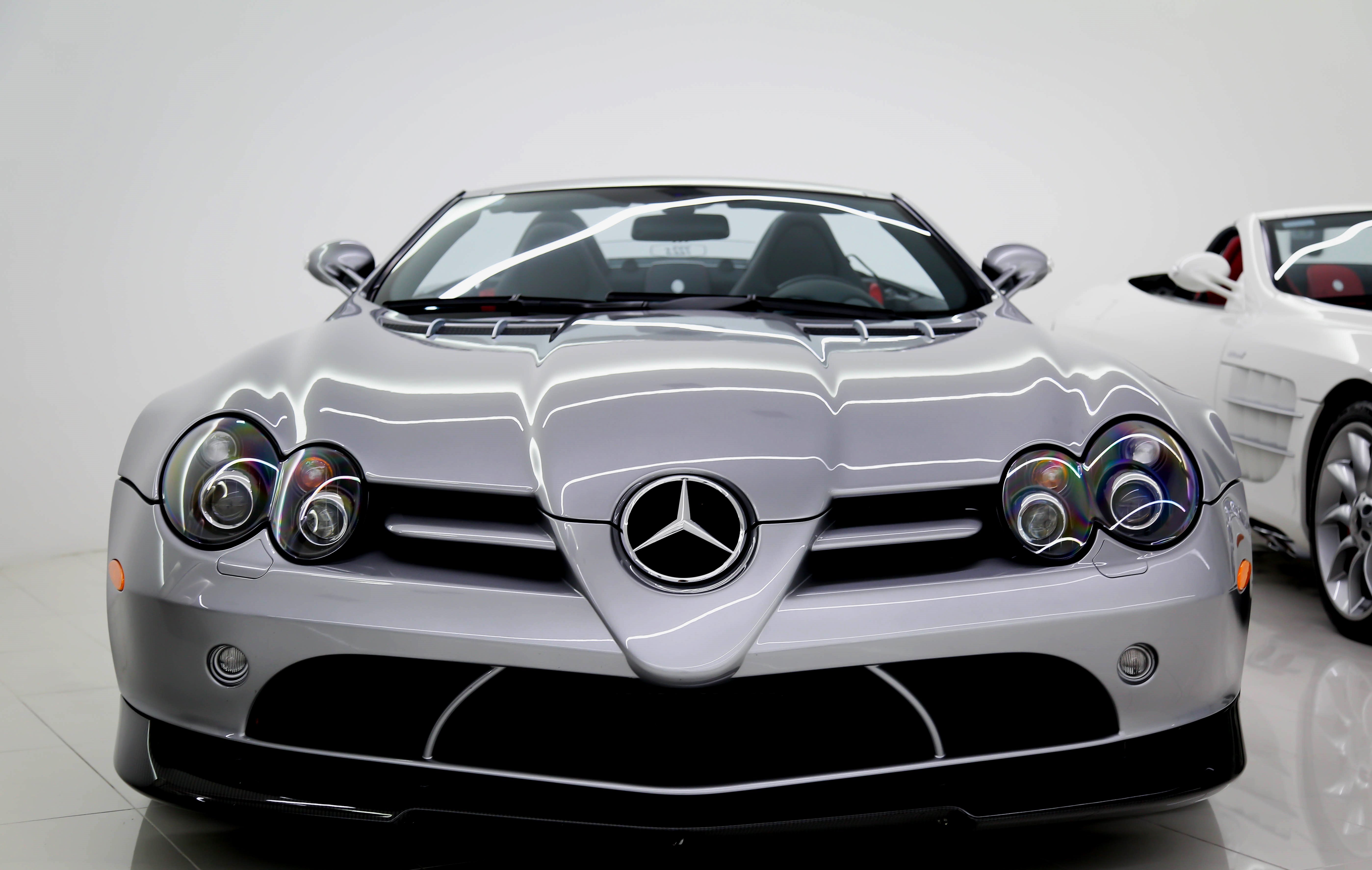 Crystal Animony Gray / Semi Aniline Black
1 of 25 for US Production
Only 2,679 Miles
Only 2 Owners!
"A" Service Completed in 2017
$825,000
722 S CUSTOM OPTIONS:
Red Brake Calipers

Black Carbon Trim (Includes black carbon fiber interior trim.)

Stitching in Contrasting SL Red

Appearance Package- Exterior

Red Brake Calipers
Complete 722S Highlights and Upgrades : Stitching in Red, Carbon Fiber Rear Diffuser, Carbon Fiber Rear Wheel Spoiler, Sport Tuned and Lowered Suspension, 722S Exterior Badging and Embossing on Seats, Carbon Fiber Trim on Center Console, Footwells, and Rear Wheel Arches, Red Seatbelts and Stitching, Suede Trim on Shift Lever, Handbrake Lever, Shift and Handbrake Gaiters and Interior Door Handles, Sports Steering Wheel with Aluminum Shift Paddles, Modified Instrument Cluster, Alcantara on Center Seat Cushions, Headliner and Upper Door Panel, and Mercedes AMG Red Brake Calipers!
---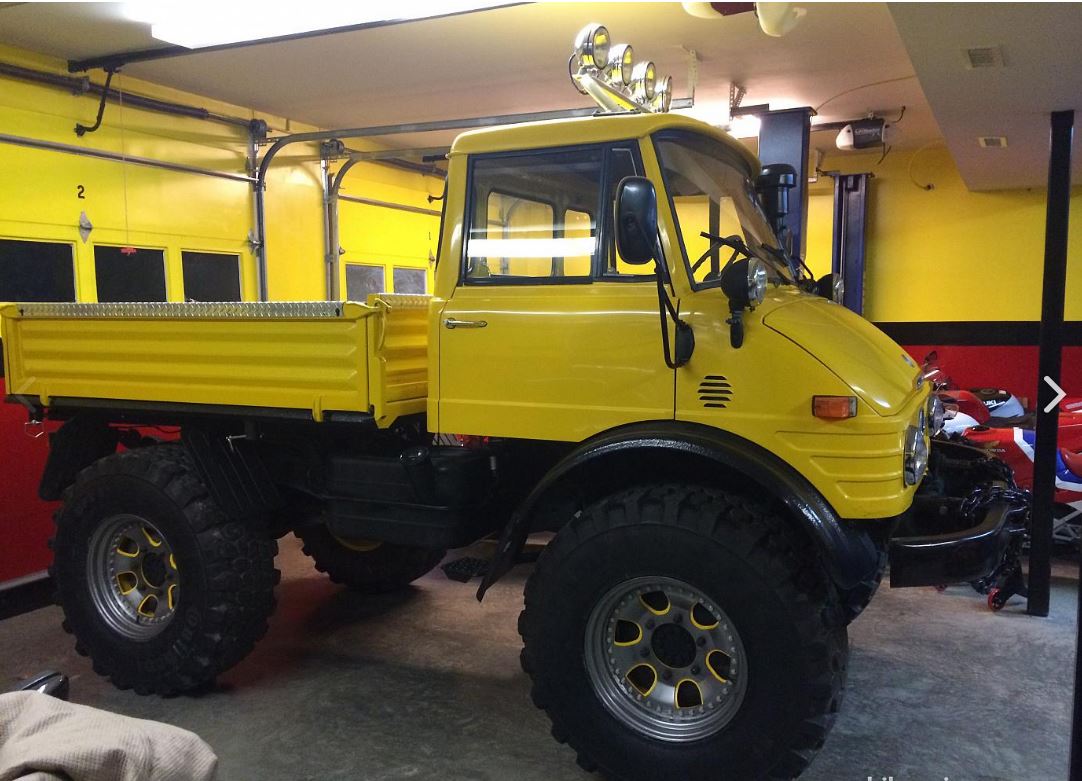 Yellow / Black
Only 21k Kilometers (13,000 miles)
4WD with 5.7 Liter Mercedes Diesel
Front & Rear PTO setup
24 Forward Gears
3 Ton with 3 Way Dumping Bed
$69,500/offer
DESCRIPTION:
This 1972 Mercedes Benz Unimog 406 is just the 4×4 ticket to the "mine is bigger than yours club". When you climb up into the cab, and fire up the 6 cylinder 5.7 liter MB diesel you will be looking down on the rest of the world.
The body on this true TONKA MOG was completely restored several years ago and finished in a brilliant yellow with diamond plate accents. The bed is a 2inch thick mahogany clear coated and in show condition. The interior has been completely restored along with upgraded insulation.
There are fully working PTO's front and rear for any attachment you desire. Need a bucket loader up front? No problem! Massive snow blower or plow. Just stick the 406 into one of the 24 forward or reverse gears spinning those beautiful Custom powder coated Bead-Lock 20in wheels shod with 58 inch Michelin tires means you can drive over or through anything.
Rumble down to the local feed store for farm supplies and there is nothing that his monster can't handle. With a 3-ton payload you can fill up the three-way dumping body with anything your heart desires. Watch the other truck and 4×4 drivers gawk with envy when you leave parking area loaded, and forge right through the 6ft deep river rather than take the bridge.
Need to pull one of those shitty little Hummers out of the woods? No problem! Want to take an evening excursion? Just flick a few switches and 8 155 watt Hella spotlights will turn night into day. You are the hero of every snow storm, mud slide or natural catastrophe. With only 21,000km on the clock this Unimog is just getting started in life.
---