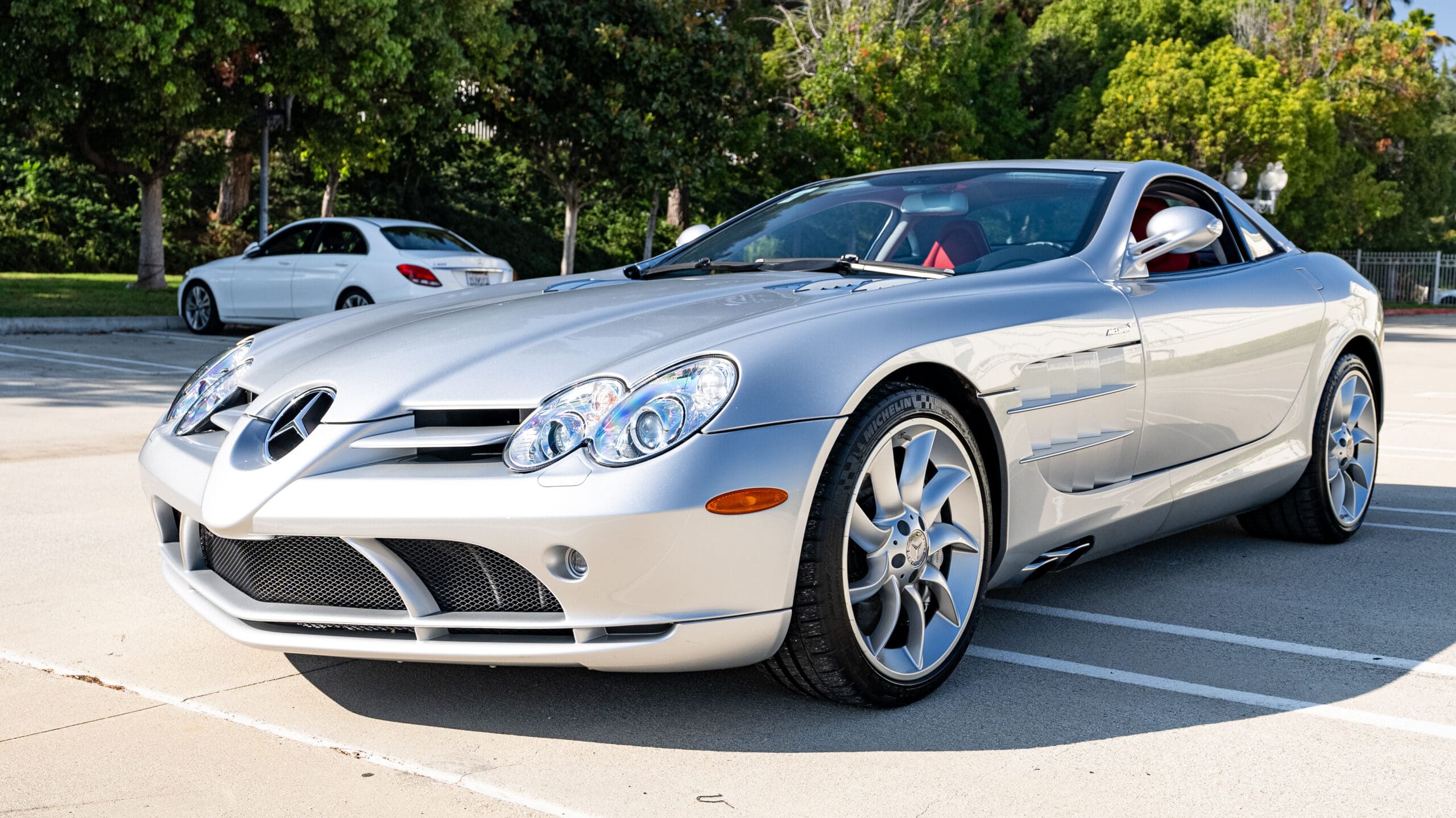 (Scroll down to Gallery)
Crystal Laurit Silver Metallic / Exclusive Red Leather
Silver Arrow Package
19″ Turbine Wheels
Dealer Serviced at 1,584 Miles
Only 1,656  Miles!
$399,500
The McLaren SLR is Mercedes answer to the Ferrari Enzo and Porsche Carrera GT with performance statistics to match those two Supercars. This Mercedes is a showcase of cutting-edge technology, not only for its incredible engine but also for its novel use of carbon fiber and other exotic innovations. It catapults to 60 mph from rest in 3.8 seconds and hits a top speed of more than 200 mph.
The SLR with a $450,000 (Manufacture's MSRP) brings together two of the most respected names in the automotive industry: Mercedes-Benz's in-house AMG performance division supplies a 617-hp supercharged V8, while British firm McLaren Automotive, creator of Mercedes-Benz's Formula One race cars, designed and hand assembles the car itself at its facility in Working, England. One dramatic example of technology transfer from Formula 1 racing is the carbon fiber composite material of the new SLR body, which provides rigidity and strength never before achieved in road-going vehicles. Equally impressive is its high level of occupant protection. The SLR is distinguished as the first series production vehicle to utilize a front crash structure made exclusively of carbon fiber. Specially designed to absorb crash energy at a constant rate, the carbon fiber crash structure absorbs four to five times more energy in a severe frontal collision than similar structures made of conventional steel.
The high-performance SLR supercar is one of very few production cars to make use of ceramic brake technology. The brake discs on the SLR are made of a new composite material – a fiber-reinforced ceramic with astounding stopping power, high heat resistance, outstanding structural strength and long service life. The discs weigh less than half that of conventional brakes, and are fitted with eight-piston calipers in front and four-piston calipers in the rear. The brake system alone can decelerate the SLR up to 1.3 g, producing the theoretical equivalent of 2,000 horsepower. In addition, an innovative airbrake in the form of an adaptive rear spoiler in the trunk lid increases downforce, improving stability and braking even further. Under hard braking above 59 mph, the air brake pops up at a 65-degree angle, helping to stop the car from 62 mph is just 114 feet.
The SLR doesn't compromise luxury and comfort like other supercars do. Truly an exotic car that is drivable on a daily basis.
Production capacity is limited to 500 cars per year for the world. The first SLR rolled off the line in May 2004, and the 1,000th SLR left the building in February 2006.
---

Mercedes McLaren SLR Roadster!
Gloss Black/ Black Leather with Black top
One Owner since new!
Only 1425 original Miles!
Original MSRP over $500K
Factory Warranty until August 2013
Privately Owned.
$299,500
Here is a little "real time" history for exotic enthusiasts and collectors that the SLR has perhaps peeked your interest. Feel free to read on…
The SLR Coupe was produced for the model years 2005 and 2006. In model year 2008 Mercedes-McLaren introduced the Roadster Version of the SLR.
At $450K(original MSRP) for the coupe and over $500k for the Roadster version these cars were not cheap. Mercedes and Mclaren had teamed up to produce a supercar with the strongest and lightest materials(read below) available on the earth, along with a powerplant and drivetrain to this day puts down some of the fastest race track, and straight line times of any production car.
The hefty initial price tag that was needed to cover such an extraordinary project prevented this Supercar from reaching their 7 year goal of 3500 units produced. This is a good thing for owners, since only 2000 total SLR's were ever produced. Speculators put the number of Roadsters in the 400-600 range for total world production. Truly a very limited Supercar when you compare that to the Ferrari 599 GTO which made 599 cars just recently in one model year.
Going back in time….The 2005 SLR coupe quickly declined in values from the $450K original MSRP, and there was a time a few years ago that a nice low mileage  SLR Coupe could be bought closer to the 200k mark. Take a look at values today and they have risen. You will see in comparison, the Roadster, which is several years newer is an extremely good value at this time. While a half million dollars may be a stretch for the SLR Roadster, this car for less than $300k on the market now with less than a couple thousand miles is the best Supercar Roadster buy on the market bar none!
Construction materials notation:

The new Mercedes-Benz SLR McLaren Roadster owes its exceptional status among open high-performance sports cars to its motor racing genes and the uncompromising use of high-tech materials that – despite all their inherent benefits – are generally only ever found in a few individual components of even premium series-production cars, if at all, owing to the high costs and elaborate manufacturing processes involved.
This is particularly true of the high-strength yet lightweight carbon-fibre composite materials (CFRP) that are used. Mercedes-Benz and its Formula 1 partner, McLaren, have gathered many years of experience with this material which is commonly used in the aerospace industry. In an impact, carbon fibres have a level of energy absorption that is four to five times higher than that of steel or aluminium, while the weight advantage of this high-tech material over steel is around 50 per cent.
The new high-performance Roadster capitalises on all of these benefits. As in the Coupé version, and apart from two aluminium engine frames, its body is completely made of this exotic material. This complex carbon-fibre technology has furthermore undergone intelligent redevelopment for the Roadster's monocoque. The result is low weight as well as exemplary energy absorption courtesy of unique carbon-fibre crash structures, which translates into excellent occupant safety, plus a level of torsional stiffness that is unprecedented for an open-top car. This gives rise to the sort of scintillating performance that is normally the preserve of super sports cars with a fixed roof.

Back to this particular SLR Roadster…the most stunning and best selling convertibles are triple black…no matter what manufacture…some might argue the Ferrari in Red is the best selling, but then there is a bigger supply of red cars, so you be the judge.
***** OPTIONAL ACCESSORIES *****
H74 Black Carbon Trim
L33 Roof Linkage ("Colin") Covers
R37 19″ Turbine Wheels
This One Owner beauty is in showroom condition.
Available for immediate delivery.
Privately owned.
Inspections welcomed!
---